For enquires phone 021 2632 334 or email askari@askaricats.com
or fill out the enquiry form
Honey (Calvin)
DOB: 02-02-2023
Colour : Cream Persian
SORRY I HAVE NOW GONE TO A NEW HOME
Askari BJ Freddie (B J )
DOB: 11-02-2023
Colour: Cream Smoke & White Persian
Askari Hunter Gold ( Hunter)
DOB: 11-02-2023
Colour: Red & White Harlequin

SORRY I HAVE NOW GONE TO A NEW HOME
Askari Riley Finn ( Riley )

SORRY I HAVE NOW GONE TO A NEW HOME
DOB 11-02-2023
Cream Smoke Bi-Colour
Askari Flash Razor –
SORRY I HAVE NOW GONE TO A NEW HOME
Colour: Red & White Harlequin
Breed: Exotic
Blue Tabby Harlequin
DOB 27-11-2022
ASKARI CANDY N KISSES
SORRY I HAVE NOW GONE TO A NEW HOME
COLOUR: BLUE CREAM TABBY BI-COLOUR
DOB: 16 December 2022
FEMALE
ASKARI SNEAKERS N WHITE
SORRY, I HAVE NOW GONE TO A NEW HOME
COLOUR: CREAM & WHITE BI-COLOUR
DOB: 16 DECEMBER 2022
MALE
MORE BABIES COMING SOON . WATCH THIS SPACE
SORRY, THE KITTENS SHOWN BELOW ARE
NO LONGER AVAILABLE
All these have now gone to new homes.
Askari Ellie Mayflower (Ellie) Breed: Exotic shorthair Spay
DOB: 17-10-2022 (15wks)
Colour: Blue Classic Tabby Bi-Colour
Sorry I am no longer available
Have now gone to a new home 14-02-2023
Ellie is full of the joys of Spring and loves a cuddle but not when she's busy with other things in her life, she has a strong personality and will stand on her own when it comes to other dogs and cats.
Will adore being with children and love the attention. Her colouring is very striking and will only get better as she matures; her slightly longer nose gives her more of a British shorthair look. If you prefer your kitten not so extreme then this girl is a real doll and very pretty.
Askari Chipper Blue (Chipper)
Breed: Persian Neuter:
DOB: 10-10-2022 (16wks) Colour: Blue Bi Colour
Chipper is a gentleman, with his very gentle playful nature he will be a true companion to his new family, he quietly seeks you out and once you're his friend then he will be absolutely a sole mate. He is a very handsome boy and has almost an aristocratic look about him with his beautiful markings.
Askari Chasing Rainbows (Rambo)
DOB 28-09-2021
Colour: Brown Classic Tabby Bi Colour Persian
Rambo has a beautiful nature and would be ideal as a family pet or to go to that person that is looking for a special companion. He goes to his new home fully vaccinated, desexed, and microchipped with excellent manners and fully house trained, he loves being groomed and of course, that is a must with all Persians and Exotics. Rambo loves his cuddles and is very laid back so will probably fit in well with a dog. The home I'm looking for (like with all my kittens and cats I place) is to be able to sleep on a bed at any time, not be allowed outside in the garden unless fully supervised and most of all a permanent loving environment where they are part of the family.
Buster
Black & White Persian Male
Sorry I am no longer available Have now gone to a new home
Born 24 October 2021
Buster has been named very aptly as he is very full-on with personality plus, and lots of affection piled onto his very cheeky attitude. This more than makes up for his "look" which gives him a very "clown" like face but nonetheless an adorable-looking boy that will grow up to a very handsome and different. Very suitable for family life and will give endless love to anyone that will take notice of him. He will come fully vaccinated, microchipped and desexed, plus with full instructions and pet insurance for 6 weeks.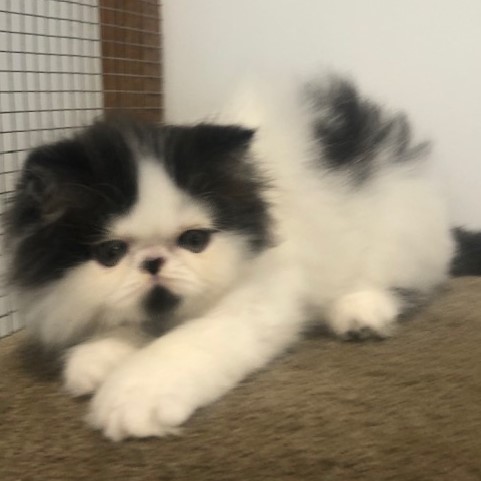 These kittens are also all sold
See the picture gallery of our gorgeous Persian and Exotic kittens below that have gone to new homes. All kittens have been desexed, microchipped & fully inoculated. The Askari Cattery is a very small Cattery and prides itself in raising well-loved happy healthy babies that get the best attention right from birth. All cats and kittens can safely play in a garden during the day and have the security of individual sleeping quarters at night with food to allow each cat to be monitored.
The kitten comes with 6 weeks of Pet Insurance, a feeding program, and a basket of goodies to allow the best possible for your kittens in their new home. We freight all around NZ but this is extra if outside of Auckland
Please use the form underneath the gallery to express your interest and preference for a kitten.
Blue Harlequin Female
Sold – MAGGIE
has now gone to a new home
Name: Clio
Colour: Tortoiseshell Bi Colour
Female Spayed Persian
Date Of Birth: 28/10/20
SOLD
Name: Poppyseed Delight
Colour: Tortoiseshell Harlequin
Female Spayed Exotic
Date Of Birth: 28/10/20
SOLD
Name: Crunchy Bit On The Side
Colour: Tortie Tabby Bi Colour
Female Exotic
Date Of Birth: 28/10/20
SOLD

Name: Chicago Wild Child
Colour: Black Bi Colour
Male Neuter Persian
Date of Birth: 28/10/2020

SOLD
Name: Chester Brown
Colour: Brown Tabby Harlequin Male Neuter Exotic
Date of Birth: 28/10/2020

SOLD
BEFORE YOU EMAIL ME – PLEASE NOTE THE FOLLOWING
It would be appreciated if you gave the following information when contacting the ASKARI CATTERY as this will enable me to respond faster:
FOR NEW PROSPECTIVE ENQUIRIES I WILL NOT BOTHER ANSWERING EMAILS UNLESS YOU HAVE GIVEN ME THE RELEVANT INFORMATION SET OUT BELOW MY KITTENS ARE VERY SPECIAL AND I DO CARE ABOUT THEM AND WHAT SORT OF HOMES THEY ARE GOING TOO
Are you looking for a House Pet to join the family or a pet you would like to show as well as being a house pet?
The Town/City you live in and your location?
Do you live in your own home or do you rent (if renting do you have permission from your Landlord to have a pet?
Do tell me about yourself and under what conditions the kitten will live in. i.e. Apartment or house with garden surroundings.
Please Note ALL my pets leave the cattery desexed No exceptions.
Show kittens are available only with a contract and full instructions and help on preparation for showing.
When you decide to take an "Askari" kitten you commit yourself to maintain and give them the best quality of life with unconditional love. If at any stage your circumstances change and you can no longer keep your Askari Cat/Kitten no matter what age the breeder must be informed and given the opportunity to rehome the cat to a suitable home.
Sometimes I do have available ex breeding stock, you are welcome to enquire, once again tell me about yourself and your home environment.
Please tell me what other pets you have living in your household or what other pets you have owned.
I do have from time to time have show pet kittens available to go to owners that wish to enter into the wonderful world of cat shows. All help on grooming, preparation, and feeding is given.
We are a DNA – PKD negative tested cattery
ASKARI CATTERY GUARANTEES all kittens to be PKD negative